WHAT IS iampro?
iampro is an online drama school with a strong social conscience. Founded with the mission of making Arts education accessible to all, we believe classes shouldn't be expensive and only accessible from certain cities, passion and talent should be the most important factors. Our memberships start from £12.50 a month when paying annually, and we offer means tested scholarships to help those who need financial support.
HOW CAN iampro HELP YOU?
We're a team of performers, theatre and film makers currently working in the business, who know how difficult it is to access high quality training and break into the industry. We're on a mission to challenge the way people can train as a creative and start a career in the industry.
LEARN FROM THE INDUSTRY'S HOTTEST PROS
We promise to bring you courses from the best in the business which are constantly evolving so you are always progressing and moving further towards your goals whilst amplifying diversity, inclusion and equality within the creative world.
What's included in an
iampro

subscription?
ON-DEMAND COURSES
A constantly growing library of video courses in; Acting, Singing, Movement and Production.
LIVE WORKSHOP CLASSES
Access to weekly LIVE module classes ran by our incredible iampro coaches and contributors.
Celebrity masterclasses
Join workshops with well-known, renowned performers.
SELF-TAPE CHALLENGES
Members-only Self-tape challenge which will be judged by top agents and casting directors.
OPEN MIC NIGHT
Showcase your talents and get constructive feedback from members and guest panelists.
CASTING CALLS & OPPORTUNITIES
Exclusive casting calls and industry opportunities. As well as, access to affiliated agents in the industry.
A COLLABORATIVE COMMUNITY
Our community board is a place for you to meet other creatives, collaborate on projects and share your learning.
INDUSTRY PRO Q&A's
You'll be able to join regular Q&A sessions with industry professionals in casting, production and so much more.
DOWNLOADABLE RESOURCES
Access a library of downloadable resources so you can keep learning wherever you are.
Get a 7 day free trial when you sign up for any membership. Cancel anytime.
OPEN MIC NIGHT
with CHARLIE BROOKS
Join Charlie on the first Sunday of each month as she passes centre stage to you. This is your chance to share your creative work such as monologues, songs and short films for helpful feedback from your peers and industry pros such as agents and casting directors.
JOIN OUR GROWING COMMUNITY
Check our our community chat boards to connect with like-minded people and share your progress as a performer or theatre and film maker.
Our coaches
Acting Coach
Niall Phillips
Niall is an award winning director and the Artistic Director of Lonesome Schoolboy Productions. Niall has taught at some of the best drama schools, including RADA, Italia Conti, Birmingham school of Acting and IDSA.
Kay has worked at several of London's best Drama Schools and Theatres and is currently working at RADA. where she helps actors to find the best use of their voice by exploring practical voice skills, text, accent and dialect.
Shakespeare Coach
Evvy Miller
Evvy is one of our Shakespeare coaches. She trained at Guildhall and has toured internationally with The Royal Shakespeare Company (RSC), The Globe and played leading parts at The National Theatre.
Movement Coach
Sean Hollands
Sean is a director, movement director, theatre maker, artistic director and theatre practitioner. He works for Frantic Assembly as a practitioner, which means running workshops and residencies in the UK and around the world.
Comedy Acting Coach
Richard David-Caine
Richard's been performing comedy for over 10 years. TV and film includes BAFTA-winning shows Swashbuckle, Class Dismissed (twice nominated for Best Comedy Performance at the RTS Awards) and People Just Do Nothing.
Singing Coach
Olivia Doust
Olivia is a multi-talented composer, conductor, musical director and performer. She has taught at Mountview Academy, London College of Music, Royal College of Speech and Drama and is currently working for The BRIT school.
Acting Coach
Gemma Crooks
Gemma Crooks is a director, actress, and acting coach. She trained at the Birmingham Conservatoire on the BA Acting course. This lead to TV and theatre work and she is now undertaking an MA in Actor Training and Coaching at The Royal Central School of Speech and Drama.
Acting Coach
Richard Neale
Richard is an acting teacher and director at Guildford School of Acting where he sits on audition panels for the BA Acting course. He's also an Associate Director for Actors from the London Stage.
Screen Acting Coach
Michelle Bonnard
Michelle is an actress and screenwriter having worked in television, theatre and film. She studied at LAMDA and is probably best known for her roles in Five Days (2007), The Fear (2012) and Stand Still (2019).
Popping Coach
Brooke Milliner
Brooke is one of the freshest choreographic talents in the UK. He is the lead dancer of the crew, Plague, who he has led to two Hip Hop International World Championship titles, a feat never achieved by any other UK dance group!
Commercial Dance Coach
Nikki Trow
Nikki is an amazing dancer and choreographer, having worked with global stars such as Little Mix and Kylie Minogue and on big shows such as The X Factor, Strictly Come Dancing and The Greatest Dancer.
Acting Coach
Matt Harrison
Matt is a passionate Director and Theatre Maker who has vast experience of the industry. He was voted the National Theatre's New Works Department Resident Director of 2018-19 and is currently an associate of the National Youth Theatre.
Acting Coach
Grace Andrews
Grace has worked internationally in classical and experimental theatre and extensively in voiceover. She currently works as a teaching artist, directing throughout the UK, Europe and the US. She is also an award-winning film-maker, based in London. 
Adam is a vocal coach who works with some of the best performing arts schools in the country! He is part of a choir with international success, leading him to work on TV, Radio and supporting a variety of well-known singers.
Writing Coach
Matthew Churcher
Matthew is an actor who specialised in acting and devised theatre. He has been in productions such as War Horse and Jayne Eyre and also loves to work on his own material. He is also a very talented musician!
Acting Coach
Ryan Bennett
Ryan teaches acting at many top schools including NIDA (Sydney), Sylvia Young Theatre School and Guildford School of Acting. He has also starred in indie feature films Zoe; Misplaced and Our Little Haven.
Beatboxing Coach
Grace Savage
Grace is a multifaceted artist; highly renowned beatboxer (4 x UK beatbox champion) and creator of her own unique blend of electronic-pop that has heard her music on the likes of BBC Radio 1, Radio 6 Music and many more.
GCSE and A level Coach
Russell Clark
Russell is currently Head of Drama at the world famous 'ArtsEd' school in London. Whilst the school specialises in the performing arts it also boasts as being, academically, the highest achieving performing arts school in the country.
Movement Coach
Rachel Hosker
Rachel is a movement director and actor. She co-runs award winning theatre company The PappyShow & is an Associate Artist of National Youth Theatre. Recent Acting Credits include Antigone (New Diorama) and The Butterfly Lion (Chichester Festival Theatre).
Movement Coach
Kane Husbands
Kane is dedicated to diverse approaches to visual narratives, with movement training at the heart of their practice. As movement director, shows he has worked on include 'Butterfly Lion' for Chichester's Minerva Theatre and 'Last King of Scotland' for Sheffield Crucible.
Dance has taken Jac to many cities and countries and he has performed on well known TV shows such as Britain's Got Talent and the X Factor. He was also part of RuPauls Drag Race tour and was in Zayn Malik and Sia's music video!
Musical Theatre Coach
Emma Williams
Emma is a four-time Olivier nominee and a winner of the WhatsOnStage award for Best Supporting Actress. She began her career in film and television before making her West End debut aged 18 as Truly Scrumptious in the original cast of Chitty Chitty Bang Bang.
Acting Coach
Bradley Taylor
Bradley has over 10 years of experience teaching various disciplines in acting and vocal coaching and as an actor he has worked on high-profile theatre, television and film projects including ITV's Dark Heart and Katie Mitchell's Some Trace of Her at the National Theatre.
Accent Coach
Alix Dunmore
Alix has worked extensively in theatre, radio, television, film and voiceover, is a founder member of the Fitzrovia Radio Hour and has been working as a professional Accent, Dialect and Vocal Technique Coach since 2013.
Movement and Puppetry Coach
Tom Gilbey
Tom has been in the Theatre industry for over 10 years. He was head puppeteer on the lead horse 'Joey' in the West End hit War Horse and is currently movement captain on Harry Potter and the Cursed Child.
Directing Coach
Rikki Beadle-Blair
Rikki is a Writer, Director, Producer, Composer, Designer, Choreographer, Performer and most proudly a mentor. He has won several awards including The Sony Award and works with RADA students to perfect their end of year showcases.
Acting Coach
Mara Philippou
Mara currently teaches at the Arts Educational School, which is one of the highest achieving performing arts schools in the country! She also loves to write and perform stand up comedy.
Shakespeare Coach
Tas Emiabata
Tas is an Actor and creative facilitator who delivers a diverse range of theatre-based workshops. He has a passion for Shakespeare and has worked a lot at The Globe Theatre, travelling the world teaching people about Shakespeare!
Junior Acting Coach
Katy Secombe
Katy is an actress who trained at Bristol Old Vic Theatre School. She has performed across stage and screen. On the West End she has played roles such as Rosie in Mama Mia, Mama Morton in Chicago and Madame Thenardier in Les Miserables.
Beth is an actor and writer hailing from Teeside. Recent shows include Netflix's Afterlife and the BBC's Pompidou. Beth is an Laurence Olivier bursary winner, and 4x Triforce creative Network monologue slam champion! She is also currently a teacher at Sylvia Young Theatre School.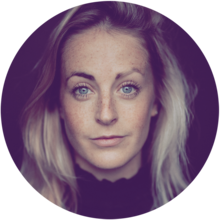 Acting Coach
Philippa Hogg
Philippa is an actor-musician and theatre maker who is particularly skilled and experienced in the development of new work. She has created shows with multi Award Winning Companies such as Les Enfants Terribles, The Wardrobe Ensemble and This Egg.
Sara is an award winning director who is old Vic 12 alumni. She has just directed Once Upon A Bridge by Sonya Kelly for Druid Theatre and was recently staff director at the National Theatre for Lucy Kirkwood's The Welkin. She is currently Associate Director with Irish theatre company Pan Pan and was previously Resident Director at Almeida Theatre.